An Alan Partridge Q&A
Gloucester Live
Alan Partridge is returning to the BBC to fill in for regular presenter John Baskell as Jennie Gresham's co-host on the popular magazine show This Time. Alan took a few minutes out of his busy schedule to tell us what we can expect…
Alan Partridge, it's been 25 years since your last BBC presenting job.
It has. But very soon I'll be parking ma backside on the This Time sofa, just inches from regular host Jennie Gresham, a broadcaster I genuinely admire. If it's not verboten to say this in the current climate, she's the thinking man's thinking woman and provides not just eye candy, but ear candy and even brain candy too at times. She's that good.
How did your return to live TV come about?
Well, as you may have read, regular presenter John Baskell has become rendered unwell – it's not my place to divulge the nature of his illness but I believe it's to do with his heart, brought on by good living and his almost heroic refusal to ever exercise. So with a few days' notice, I got the call. And although my schedule is as clogged as John's arteries (get well, John) I consider it my public duty to stand in for as long as John is away. Anyway, it won't be for long. If John can fight this with a fraction of the vigour he uses to fight for presenting work he knows has already been promised to other people, he'll be on his feet again in no time.
You're used to helming your own shows. Have you co-presented before?
I've presented daytime radio alongside a man called Simon Denton for several years. But that's not co-presenting. In relation to me, Simon's position contractually is one of total subordination. He's a sidekick – at best. And he knows that.
So no, co-presenting is not a dynamic I'm used to, but I've been working on a few things. So when Jennie's reading the autocue I might turn my head to face her to simulate listening, or frown solemnly if she mentions 'cancer', or wait until it's my turn to speak and then prefix it with 'That's right, Jennie.' Loads of things you can do.
How do you and Jennie get along?
Gotta say, we've only just met but already we have a chemistry that sizzles like liver in a hot pan and crackles like a genuine house fire. We joke about it ourselves! I said to her, "Jennie, in the words of Grease, we go together like rama lama lama ka dinga da dinga dong." And did she laugh! (Yes.)
What can you tell us about the show? Are you a fan of This Time?
If I'm honest, I'm not super-clued-up on the show itself? I'm not an avid watcher of BBC One, since I don't like documentaries about supermarkets or period dramas featuring bonnets. But I've circled a bit on a This Time press release here that describes it as a '30-minute mixture of studio chat, rigorous interview, hard-hitting VTs and a generous helping of fun, covering news, issues and consumer affairs'. Whereas I'm more of a Nazi Megastructures man.
It's a little more serious-minded than the rest of your output.
I'm cool with that. I pull no punches, push the envelope and punch my weight when push comes to shove – if that makes sense.
How would you sum it up?
Ha! Believe me, I don't have the time to sit around thinking up marketing taglines for the show. Wish I did! But I suppose if pushed I'd say something like: if you've got time to give This Time your time, then it's time to let This Time spend time making your time a good time on This Time with me, Alan Partridge and I'm sorry I've forgotten the woman's name,
Jennie Gresham.
Thank you.
What changes can we expect with you in the hot seat?
And it is a hot seat. There's an exposed bit of metal frame that cooks under the studio lights and if you sit right back and your shirt rides up, it scalds you on the back. So you just have to sit forward and/or make your shirt stays tucked in.
And what changes can we expect?
Fear not, I'm not going to eff with a winning formula. But I do have a phalanx of fresh ideas that'll benefit the show no end, including the introduction of my longtime radio sidekick Simon Denton. Adept at reading out tweets and providing a sideways look at news, he'll be our social media reader-outer.
Anything to add?
Not really, just please please please please please please please watch the show.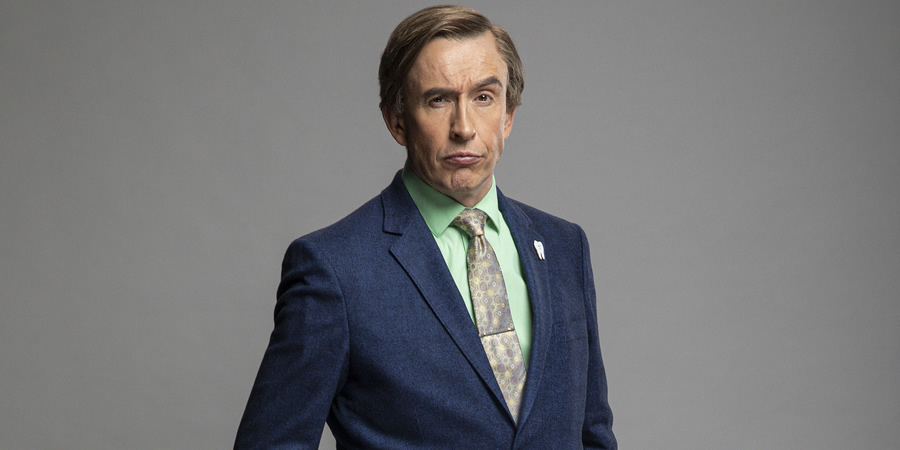 GQ Magazine
By Alan Partridge
25 February 2019
Twenty-five years. A life sentence. A man freed after 25 years in jail would see the world through quite flabbergasted eyes. What would he make of, say, contactless bank cards or Tinder or Paddy McGuinness? Yes, his would be a fascinating perspective (the convict's, not Paddy's).
Since I've been asked to fill in on BBC magazine show This Time, 25 years after my last BBC presenting gig, it occurred to me I've served my own life sentence. Perhaps not the kind demanded by the family of the man I shot dead on air, but a life sentence nonetheless. And like the newly freed convict I mentioned in paragraph one, my time away leaves me well placed to consider how the world (of TV) has changed and turn it into this thinkpiece for GQ.
In it, I will look at the rise of multichannel, HD technology and diversity – the key drivers of what Alan Shearer calls "the medium's discernible paradigm shift". I will touch on the BBC's funding model, the rise of streaming and the insistence of quirky regional accents for on-screen "talent".
I'll come to all of these shortly, but first a brief word on refreshments. Because the most obvious difference between then and now is the sandwich selection at lunch!
In the Nineties, we came live from Television Centre in Shepherd's Bush, but with that building now turned into ace apartments owned by people who don't live there, the BBC has upped sticks to New Broadcasting House, Central London. Back at TVC, lunch was limited to something-with-chips in the BBC club or a panini from the ground floor cafe. Beyond that, well you were stranded in the no-man's-land of West London. What could you do? Venture into Shepherd's Bush, with its chicken shops and outdoor market? Risk a fry-up from a cafe with chairs screwed to the floor?
No. Lunch back then was a miserable affair. Little wonder BBC presenters made do with a liquid diet, rendering them tipsy enough in the afternoons to commit the industrial-scale sexual harassment for which the Corporation is now famous.
Since the Beeb's relocation, though, we're bang smack in the heart of London's lunching district, with a cornucopia of choice for even the most discerning sandwich fancier. Not keen on grabbing a bite in the BBC's subsidised cafe? Fine. I invite you to walk down Regent's Street and marvel at the choice of branded sandwich outlets.
Look to your right and you're greeted straight away by the mustard-yellow sign of an Eat. These guys don't muck about and it's little wonder they punctuate the name with a full stop – a reminder, to me at least, (when you're) full, stop. Now, Eat always sells a good sarnie. The team there opt for a thick-cut granary, a superb all-rounder and the perfect loaf for a really, really satisfying sandwich. If you've no meetings that afternoon and aren't worried about your breath, try the tuna and cucumber, the vinegary flakes of tuna meat set off by chunks of cool, refreshing vegetable. Are its sandwiches perfect? No. The BLT comes with bacon so floppy and undercooked the rind is translucent and resembles silicone jelly. It's, to my eyes, absolutely disgusting. But that's a mere blip on an otherwise faultless sarnie setup.
Don't fancy Eat? No problem! Cross the road and you're welcomed by the sight of a Pret A Manger ("Ready To Munch"). When it comes to butties, Pret and Eat are two peas from the same pod – a notch up price-wise from your budget offerings – and hard to separate. Perhaps Pret is a smidge more generous with the mayo spoon, perhaps its bacon is given a touch longer in the pan, leaving it less flaccid and see-through than that of its near neighbour. But Pret and Eat are great options and I have no hesitation in recommending them.
Want more? You got it. A few yards south, you'll find Starbucks, the tax-canny US coffee chain whose sandwich range, while limited, is well worth checking out if Eat or Pret ain't yo thang.
Those who like their sandwiches hot and round might like to try a "burger" from quick-food giants McDonald's – and while connoisseurs will quibble at my classifying a burger as a sandwich, I stand by it. It's meat wedged between bread; and, I'm sorry, that is a sandwich. Try the chicken sandwich (I shan't add the Mc) for creamy white, piping hot breast meat in a zingy, flour-based coating. Finger lickin' good.
Back across the road, for those with more money than sense, you can pick up a sandwich from an array of shops that together sound like the members of a bad boyband: Leon, Paul, Joe (& The Juice). The latter in particular isn't my bag. Staffed by preening take-your-timers, it's a coffee and smoothie shop for those whose answer to the question "When would you like your drink?" is "In about ten minutes." But if pushed, you can buy sandwiches from any of them and that's something to be celebrated.
Think the list ends there? Think again. Toddle into Topshop, take the escalator down past the bras and sandals and what's this? Another Eat, less than 300 yards from the last one, a quirk of branch strategy for which someone at head office must have been torn a new one. It's not quite as roomy as the flagship restaurant I mentioned earlier and, being an in-store concession, your sandwich is going to be accompanied by the taste of perfume, but it's a great option for those in a rush who have ducked into Topshop to use the toilet or hide from an associate.
So that's sandwiches dealt with. But what of the myriad other changes in the world of television?
Oh, and there's Boots as well. Lots of people overlook Boots when it comes to sandwiches, but don't overlook Boots. Although pre-packed on a worryingly vague earlier date, these tasty, well made bread snacks are lightyears better than they were in the past, when their sandwich offering was blighted by a practice known as "central packing| – an all-too-common ruse that sees the filling bunched into the centre of the sandwich. When sliced through the middle and presented in cross-section, it gave the illusion of a plump, generously filled sandwich. It's only after buying one that you find the filling tapers at the edges down to a barren tundra of unoccupied bread. Whether it was due to my letters or some other reason, Boots are no longer guilty of this and are now a byword for quite excellent pre-packed sandwiches.
So you see, today's BBC telly makers enjoy a breadth of sandwich choice that their Nineties counterparts could only have dreamt of.
I had hoped to discuss other changes in television but I've hit my word count now. Thank you.
Alan Partridge: What I've Learned
Norfolk's finest shares his life lessons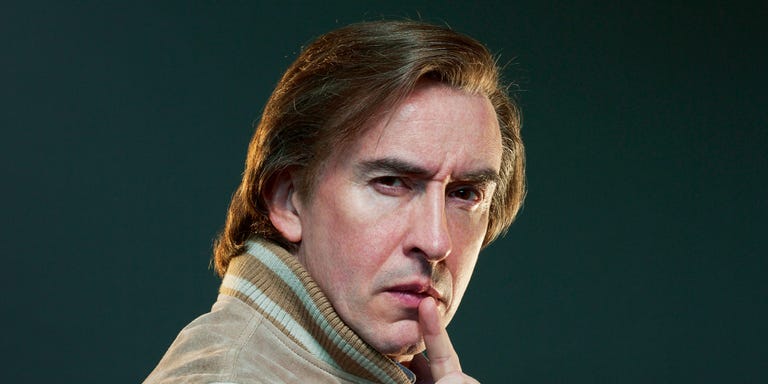 You have to have a thick skin in this business. Dale Winton's sunbed addiction means he's developed a teak-tough brown hide. Mine's not quite as thick. The eczema on my tummy and arms has seen to that.
To get the measure of a man, I try to establish three facts: what they drive; where their holiday home is; how much cash they have on them at any one time. Me? Kia, Cowes, £300. Erm… Four 50s, four 20s, a 10, a five and five pound coins. For the parking meter.
When it comes to charities, my particular favourites are ones to do with Africa. I've done more charity raffles for Africans than they've had hot dinners.
My greatest fear? Being at a charity event and everyone in a room suddenly having white eyes and robotic voices. I turn and run but they fire lasers at me from their hands and mouths. Somehow, I dodge the beams and find cover behind a cabinet, but I know I don't have long. With the demonic zombies stumbling towards me, I make my move, sprinting towards the wall and diving headlong into an air duct. Hours later, I have escaped and alerted the Army. But when we return to the charity event, it is a wasteland. Nothing has been spared and as I turn to leave, I glimpse a sickening sight. Amid the ashes is a tiny hand still clutching a teddy bear. A horrible thought and I only hope none of it ever comes to pass.
I used to sleep in Egyptian cotton until the Arab Spring. Now, I open out a sleeping bag and use it as a duvet.
People assume I'm constantly surrounded by celebrity friends, but it's not like that. I used to Skype chat with Eamonn Holmes every Sunday morning but he started to do it from the bath and I didn't like that. It wasn't his flesh – the bubble bath covered that – it was the fact he'd be eating sliders while he chatted to me (they're basically small burgers). With the suds on his face, he was like Santa playing Pac-Man.
It absolutely staggers me that people keep their eggs in a fridge. Eggshells will maintain integrity at room temperature for at least 21 days but at low temperatures the outer mucoprotein cuticle dries and shrinks, exposing the pores in the calcium carbonate shell. This increases the probability of bacterial contamination by about five per cent. But keep your eggs where you want. It's your funeral.
I'm a Marmite DJ. Some people love me, others like me. But all respect me.
I am in great shape. I start a different diet every Monday and have taken the batteries out of my TV remote so that I have to physically approach the television every time I want to change channel. It's annoying but punishes my abs, quads and arse muscles. Can't remember what arse muscles are called.
Wisdom can be found in many forms. It could be a shaman in a cave. Or a witch doctor in a cave. But it can also be found in the guise of a not-unbusty 65-year-old woman called Lynn Benfield, my assistant. Unkind people say she's frumpy, dumpy and grumpy, which sounds like three dwarves. Then again, from a distance she does resemble three midgets huddled in her dead mum's coat.
Wagamama is tasty but I shan't be going again. Order a noodle soup and you're presented with chopsticks and a spoon – and a tactical conundrum. It's down to you to regulate your consumption of solids and broth. Too much of the former and you're left with a puddle of empty soup; too much of the latter and it's a cold nest of noodles.
It took so much concentration, I'm ashamed to say I neglected to chat with my guest, Glen. In the end, I thought sod this and went and bought a Whopper.
My best-ever holiday was an all-inclusive fortnight in Orlando. They wanted £1,200 for it but I got them down to £950 and when I got there my room was soiled so I was upgraded to a deluxe which should have cost £1,500 all-in. That's a pretty tidy saving of £550. You should have seen their faces. And that's why the fortnight in Orlando was my best-ever holiday.
My autobiography broke the mould. It came with its own suggested soundtrack. I spent three days with my iPod creating a list of songs that would provide the perfect mood music to accompany my life. My publishers said this wasn't necessary. In fact, they specifically told me not to bother, as they weren't willing to pay for the production or dispatch of a CD and certainly weren't going to seek clearance from, or pay royalties to, the artists I'd chosen. I did it anyway.
In 1967, I misdiagnosed myself with cancer of the ball bag. Turned out it was just an infected paper cut on my scrotum. Next question.
What's the one thing I'd save if my house was on fire? Contents insurance documentation. Those people will screw you given half a chance. If it's all the same to you, I'll keep a copy of the policy for my records, thanks.
A-ha. It's both my catchphrase and the name of a Swedish, or Norwegian, pop group. I met them once in the bar of the Hilton Gatwick, and we laughed about who owned the copyright! Now, whenever the band release a new LP, Morten [Harket] sends me a copy, along with a photo of himself in a Pringle jumper giving a double thumbs-up. Just realised he might be mocking me.
I am – and always have been – an only child. But I would have loved a little brother to play football with or bully. I'd rush downstairs every Christmas morning and rip open my presents, hoping against hope that one of the boxes contained a human baby. It rarely did. In fact, it never did.
I cry all the time. These days, there's so much to get upset about: an earthquake in China, a school shooting, divisions over Europe in the Conservative Party. Onions always get me, too. Which is a shame because I have a diet that is incredibly rich in onions. I once broke into tears when chopping a pepper, which I thought was odd until I noticed I'd actually cut the tip of my thumb off.
I had my issues with the BBC. Especially the commissioning editor Tony Hayers. For a man who worked five days a week in the BBC, Hayers was incredibly hard to get hold of. If he wasn't at the chiropodist or at his daughter's graduation, he was on holiday in the Gambia or in a broken lift. I mean he was never ever at his desk. People say Idi Amin was a monster. And to be fair, he was. A real bad lad. Can I go now?
Alan Partridge: An exclusive interview
Alan Partridge has donned his windbreaker and undertaken a personal odyssey. It's a walk from Norwich to Dungeness A power station – a trip that he insists has everything to do self-edification and nothing at all to do with cash flow. Coincidentally, it forms the subject of his new book Alan Partridge: Nomad. We tracked down the man himself…
GQ: You didn't succeed in having the walk made into a TV series. Was it tough to secure the publishing deal?
Do you have rituals that help you to write?
I'll often loosen up by watching a movie, typically Stop! Or My Mom Will Shoot. Sylvester Stallone plays a cop and for some reason he ends up being followed around by his elderly mother, who was in The Golden Girls or Cocoon, or both, or neither. She gets in the way and he becomes increasingly irritated, but together they crack a crime and it all ends well. It's staggeringly funny.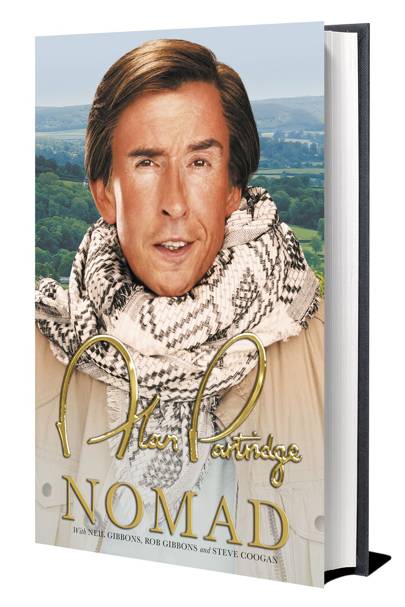 What was the best anecdote that didn't end up in the book?
Bumping into the guy from Grand Designs at a go-karting centre and having a chat. (Boring when written down.)
I head to the weekly Saturday morning bring-and-buy sale at St Luke's Church Hall in Beccles. It's a magnet for people who like to buy chipped crockery, knackered board games and the shoes of dead people. I tend to go down there whenever I want to take my mind off the pressures of work. I fill the boot with tat from my local Mencap store, then sell it for twice what I paid for it. I absolutely rinse them. You're supposed to give ten per cent of all your profits to the church's Africa appeal, but I prefer to give it to my own favourite charity, The National Trust.
Chapter 28 is about your ex-girlfriend. Has she been in touch since the book came out?
Steady on. Do I ask you personal questions? Because I could. Where did you get those shoes? Have you ever done a wee in the shower? Do you have eczema? Why do your eyes look sad when you smile? Not nice, is it? Right, ask me another question.
What was your fondest memory from the book launch?
That's better. The finger food. Where did you get your shoes, by the way? They're superb.
I'm still trying to sell Dogs On Fogle to a UK broadcaster. Simple idea: Ben Fogle is given a one-mile head start and pursued by hunting dogs. He has the option of wearing a heavily padded suit. It will protect him, but it will slow him down. So, you see, it's very strategic. Ben texted me to say he's getting cold feet about the idea, but he always does this. I think it's a bargaining tactic.
Alan Partridge: How I became one of Britain's best-loved travel writers
'This humble rambler had learnt a little about his dad, a lot about himself and whole heap of heck about this land we call Britain'. As his new book, Alan Partridge: Nomad, is published, the broadcaster expands on the inspiration behind it and his writing secrets
October 26th 2016
Last week I attended a training day for volunteer stewards at January's London Boat Show and as an ice-breaker we were all asked what we did for a living. Usually, I'd say 'broadcaster' or 'radio chat-jockey'. But on this occasion, something else flopped out: 'Travel writer'.
And as my fellow volunteers split into groups to practise carpark marshalling or saying "Please don't touch the boat, sir", I stood there, luminous bib in hand, suddenly realising that, yes, I (Alan Partridge) was 'on the road' to becoming one of Britain's best-loved travel writers. In this piece, I shall explain how.
Britain loves a travel writer. One thinks of Bill Bryson and his gentle ribbing of these isles, which although affectionate is a little bit if-you-don't-like-it-Bill-go-back-to-America for my tastes. Or even Charley (sic) Boorman's Long Way Round/Down/To Tipperary books, which obviously aren't for everyone but are enjoyed immensely by people who say 'modorcycle' instead of 'motorbike'.
But travel was a not a genre people automatically attached my name to. While I had done some travel writing before, it was limited to writing postcards to personal assistants, savaging gastropubs on TripAdvisor or emailing sumptuously descriptive directions to my summer BBQ bash ("Turn left at the shop-cum-post office, its jaundiced signage yellowed by the searing Norfolk sun"). But I'd never actually had a travel book published. So what happened? The answer: fate.
Earlier this year I undertook a deeply personal walk in honour of my father. It was a deeply personal recreation of a journey he had undertaken in the mid-1970s, from our family home in Norwich to the Dungeness Nuclear Power Station some 160 miles away. For him it had been a simple drive to a job interview. For me however, several years after his death, it was a deeply personal attempt to understand why he had been the man and, let's be honest, git he was.
So I was stunned when, in the weeks that followed and with word of my journey echoing through the publishing community like whispers on the breeze, the book offers came a-rushing and a-gushing to my door.
And it was only then, after a period of quiet reflection during an extremely slow haircut, that it occurred to me that, by sharing my experiences, I might be able to help others who had endured challenging relationships with their own fathers, particularly if those 'own fathers' had tried, and failed, to land a job with British Nuclear Fuels in the mid-1970s.
The more I mulled, the more compelling a literary proposition my journey became. Because this humble rambler had learnt a little about his dad, a lot about himself and whole heap of heck about this land we call Britain.
Walking the nation had allowed me to get under the skin of the country like the mosquito larvae that once burrowed under my friend Daniel's skin and deposited their pupae in his cheek.
Sure, my chosen route – Norfolk to Kent – was no Lands End to John O'Groats but, if you picture the British map as a squatting dog, I'd walked Haunch to Heel which, when put like that, is just as iconic. Indeed, Haunch to Heel with Alan Partridge was later the working title of the book (rejected by publisher).
And so I set to work. Thankfully I didn't have to try too hard to remember the events of the walk. Purely for my own amusement, I'd scribbled down the odd note in a journal after each day's yomp.
At the time, I'd thought nothing of these jottings so you can imagine my surprise when I returned to the journal to discover it contained almost 70,000 words of publication-ready prose. Being tidy-minded, I'd also broken the journal down into chapters and provided some options for dust jacket copy, while (for a laugh) it seems I'd knocked up a fairly detailed index too.
As I say, this had all been for my own amusement since there's almost nothing else to do on the road. It's a sad fact that only 1 in 20 UK B&Bs give their guests access to non-terrestrial television.
So when a walker has napped, eaten his chocolate, napped again, bathed his feet in a cocktail of Radox, Dettol and TCP, slathered them in E45 and wrapped them up in damp towel, what else is he going to do? Watch Emmerdale Farm? Skype a woman? No, he may as well collect his thoughts, jot them down long-hand and email them to a proofreader friend (for a laugh).
Not that I spent every evening of my journey hunched over a type-writer. Much of the wording had already plopped into my mind on that day's walk. I could often be found writing passages out loud; standing by a field, casually tossing off paragraphs to the cows.
I knew they'd only gathered in the hope that I was the farmer come to top up their feed. But that was okay, because sometimes I'd oblige, hurling a chunk of butty their way, then standing back to watch the frenzy. The cows went absolutely ape-shit. It was hilarious.
The result? Alan Partridge: Nomad by Alan Partridge. At 292 pages it is the second longest book I have ever written. They say everyone's got a book in them, but clearly that's not true: it's meant as an average across the whole population. I have now had four works published, which means that somewhere out there are three other people whose literary dreams lie in ruins.
And my father? Well, I know he'd be too frugal to shell out for a hardback at the Heaven branch of Waterstone's but, with the paperback due for release just months after the London Boat Show 2017 at ExCeL on 6-15 January ("The best boats, the best people"), I'm sure he'll be smiling down on me in the early part of next year.
Alpha Papa DVD: Alan Partridge on why he's grateful to Nigel Farage
Alan Partridge, broadcaster, patriot and hostage negotiator, speaks out about UKIP and the real conspiracy about Operation Yewtree
After rescuing North Norfolk Digital from a serious hostage crisis, new hero Alan Partridge has had a few months to reflect on his actions. As Alpha Papa, the accout of his ordeal, is released on DVD, we ask Partridge some hard-hitting questions.
What advice would you give to another DJ faced with a hostage crisis?
"Quit the jabbering." By their very nature DJs find it hard to button it, but give it too much of this [does a talky-talky gesture with left hand] and an erratic gunman is going to shove his rifle in your goolies in pretty short order.
If they were to make a film of what happened at North Norfolk Digital, who would play you?
If he can strip out some of the more unsavoury elements of his persona, I'd like to see what Rupert Everett could do with the role.
Alan Partridge attends the premier of his film Alpha Papa
My current role as a local radio D-Jock. Yes, I used to have my own prime-time BBC TV chattershow, watched by millions, with an interview style that I would describe as "like Parky but not as boring", but who cares? Radio is a much more wholesome medium. My listeners sometimes send me cake. The best I'd get in my TV days were a few pairs of women's knickers, and I could hardly eat those! I could hardly eat knickers! That's horrible!
You were a mainstay of the BBC in the Eighties and early Nineties. Are you shocked by recent revelations?
I think the thing I'm most intrigued by is the police's choice of the name Yewtree. At first I assumed it was a clever code to hint at the fact they were after a trio of Dublin-based broadcasters ("yew tree" being the Irish way of saying "you three"). Then I realised this was one of the worst theories I'd ever developed. So instead I began to look more closely at the characteristics of the yewtree itself, Taxus baccata. What was it about this tree, whose wood has been the material of choice for longbow-making since Medieval times, that seemed such a good fit for an investigation of this kind? Keen to know more I put several calls into both Monty Don and Alan Titchmarsh, though mainly to Monty Don as I think Titch has changed his number. Nothing back yet but I await their responses with some interest. In fact if either of you are reading this now, do pick up the phone, I'd be happy for you to reverse the charges.
A young Alan Partridge, during his BBC days (Rex)
What would you be doing if you weren't a broadcaster?
Definitely not charity work. I used to man the phones for The Donkey Sanctuary (ex-wife had soft spot for donkeys) and quickly came to the conclusion that do-gooders are bozos. No, if I wasn't in broadcasting I'd most likely have made between eight and ten million pounds in business. I like the idea of some form of consulting, because it's basically just speaking. It's also a line of work that would weatherproof me from the risk of having to deal with anyone who didn't have a degree.
Who is your inspiration?
I'm not going to rattle off a list of local heroes from our bloated public sector because you won't have heard of them and they don't inspire me. Instead, I choose Wernher von Braun. The Nazi rocket scientist was reviled for raining V-2s on Britain in the Second World War but proved himself to be a good egg by helping man build a rocket to the moon. This reputation trajectory provides hope and succour to a broadcaster who shot a man dead on live television (Alan Partridge).
Nick Grimshaw's breakfast show ratings have plummeted. What would you do to save the show?
What you'd call "listener hemorrhage", I call "stakeholder honing". I've broadcast to audiences of under 200 during half-term holidays but the quality of that audience was absolutely exceptional. Then again, whether Nick can say the same about people who say "totes" instead of "totally" is doubtful.
Sidekick Simon and Alan Partridge, before they knew they were to be taken hostage
Are you a fan of Nigel Farage and UKIP?
I don't think it's appropriate to discuss politics in the run-up to Christmas. But suffice to say, on Christmas morn, I'll be breakfasting on bacon, sausage and eggs rather than croissants and flaps of cold meat. We have one man to thank for that. And to suggest that him sharing initials with a violent far-right movement is anything other than coincidence is pure cattles–t.
If you had to interview God on North Norfolk Digital, what would be your opening question?
"If I sneeze repeatedly and my assistant says 'bless you' after every single sneeze, do you bless me each time or do you just bless me the first time and then ignore the subsequent requests?" Like all guests, God would then be given the opportunity to request any record (that we have). If there was time, I'd also ask him to finally adjudicate on Israel/Palestine because it's getting pretty tiresome now.
When will you be back on BBC TV?
God knows! Another question for Him, actually.
Alan Partridge interview: On surviving sieges and '50 Shades of Grey'
As his exploits come to DVD and Blu-ray in Alan Partridge: Alpha Papa, Digital Spy asked the man himself about his hectic danger day, his current taste in music and how – as the writer of autobiography I, Partridge – he feels about the literary success of a certain EL James…
Did the events of Alpha Papa change your perspective on life?
"Not particularly. My colleague Pat Farrell held up a radio station, but I already knew that within every Irishman lies the potential to go loco with a firearm. That's just how they are. I was also pretty cool with the risk of death. I've had a good career, fathered two children (one of whom makes me genuinely proud), seen the world (12 countries in all – UK counts as four), and only once missed a deadline for filing my tax return (long story!). I would miss Deal Or No Deal though. Quite simply, Edmonds is a master. The way he refuses to take any s**t from the banker would – to my mind – have made him the perfect person to lead the government's efforts to reform the UK banking sector. A missed opportunity."
What are the essential things required to survive a siege?
"First and foremost, what the French refer to as 'cojones'. Until you're actually in a life or death situation it's impossible to know how you'll react. For whatever reason I happen to be incredibly brave and strong, but everyone's different. One of the guys in there with us is a bit of a hard man in everyday life, yet faced with a gunman he'd compromised his pants within the hour.
"You also need a keen sense of humour. Again, fine for me but we happened to be locked up with Dave Clifton and I think he found it tough.
"Also worth thinking about is a secret stash of food. I spotted early on that there wasn't enough for everyone so made it my business to squirrel about 60% away in a cupboard. After the siege the others found out about this and claimed they wouldn't have done the same. My arse."
If the events in Alpha Papa were to be turned into a Hollywood movie, which movie star would you like to see portray you?
"I'd actually like to see it animated. I'm no movie director (I'm Alan Partridge) but it'd clearly make a good Manga film. There were no actual Japanese people in the siege but if it would boost sales I'd have absolutely no issue with being rendered Far Eastern. I'd even be happy to help out with some of the drawing. Not blowing my own trumpet but at school I once drew a shoe in art class and it looked very, very shoe-like indeed.
"You might be surprised that I suggest Manga but I've always been the type to think outside the box. For example, I was the first DJ in Norfolk to attempt traffic updates every five minutes (a worthwhile experiment), while on the domestic front I regularly use the steam from my shower to wilt spinach."
As a best-selling author, what are your thoughts on the Fifty Shades of Grey phenomenon? Silly smut or credible literature?
"I'm not going to tell women what books to buy (that's Judy Finnegan's job) or how they can boost their libido (not Judy's job but she has some interesting views). But if a woman wants to settle down with a book and manipulate herself to completion at the idea of a millionaire bossy boots, that's entirely up to her. All I'd ask is that she wash her hands before handling food."
What is the most played album on your iPod?
"Like most of the DJs I know, I'm not really into music. I tend to listen to audiobooks, most recently An Evil Cradling by Brian Keenan read by Brian Keenan. Having been a hostage myself I like to think I can understand a little of what he went through, also I accidentally pressed 'purchase' on iTunes when I actually wanted to buy An Introduction to Reflexology (gift for quite nice new-age woman I'm wooing).
"I also like to listen to poetry anthologies. I'm not fussy about the poet, though obviously it has to rhyme. If they can't be bothered to do that, why do they think people would be bothered to listen to it?
"Other times I'll listen to an audio file I downloaded from the internet of different car engines. I listen to each one then guess what car it's from. I've lost the track listing though so it's quite hard to know if I'm right. A couple of my friends from the pub have suggested that listening to car engines is the kind of thing you'd only do if you were a middle-aged man who lacked human contact but that's actually wrong."
'I wish I'd had one fewer children': Inside the head of Alan Partridge
Regrets? North Norfolk Digital's legendary DJ – who bears an uncanny resemblance to comedian Steve Coogan – has a few. Like having one too many children, mocking the owners of Japanese cars…. oh, and shooting a man dead on his TV talk show
Biggest disappointment? 'It'll sound silly but now and then I still regret shooting a man dead on my chat show. It was a long time ago but I still sometimes think of that day and wish he'd been more careful,' said Alan Partridge
What is your earliest memory?
I was stood on a pavement by a parade of shops while my  mother attempted to parallel-park again and again and again. I ended up shouting directions at the flustered woman until  she got it right.
What sort of child were you?
Above all, I was a good scout. So much so that I later set up an annual bursary prize for Best Scout at my local troop. But when I checked recently the standing order had been stopped years earlier, so I need to look into that.
When did you last feel really happy and why?
I got to sit in a Buick at the Goodwood Revival festival last year while dressed as a gangster and simulating Tommy Gun noises with my mouth. I still have the photos!
What has been your biggest achievement?
Probably redefining broadcasting. I took your Frank Boughs and Selina Scotts and added a breezy quality that changed what everyone thought they knew about television. Can you imagine Daybreak pre-Partridge?
… and your biggest disappointment?
It'll sound silly but now and then I still regret shooting a man dead on my chat show. It was a long time ago but I still sometimes think of that day and wish he'd been more careful.
What are you best at and why, and what would you like to be better at?
I'm a whizz at getting lids off jam jars. The trick is to push downwards towards the jar. I've embarrassed many a meathead/strongman using this technique. Wish I'd been a better dad.
Biggest achievement? 'Probably redefining broadcasting. I took your Frank Boughs and Selina Scotts and added a breezy quality that changed what everyone thought they knew about television,' said Alan Partridge
Who would your dream dinner date be?
Julia Bradbury. We'd go on a walk and the heavens would open. Giggling like teenagers, we dive into a local pub and dry off in front of the fire eating a pie. Then we have a kiss.
What is your biggest fear?
Can't say I'm thrilled with the way Komodo dragons walk (it's a butch lizard stroll), but it'd probably be a sudden spike in interest rates. I've got a buy-to-let portfolio on a tracker mortgage and a one per cent rise will end me.
What is your biggest regret and why?
I wish I'd had one fewer children. They say it costs £140,000 to raise a child to 18. Would my life be better if I'd had only one child but a three-bedroom holiday villa? Of course.
What or who do you dream about?
I often dream that my bedroom window is a ghost's mouth. I know it isn't but I dream that it is.
Who do you most admire and why?
David Cameron. He somehow manages to be both a man of the people and better than us.
What's the worst thing that anyone has ever said to you?
'I don't love you.' I asked: 'Do you mean you don't love me, or you're not in love with me?' Reply: 'Both.'
Which living person do you despise the most –  and why?
I sometimes worry that growing older has mellowed my hatred of things, and with it my passion, my sharpness. But then a youth TV presenter says 'could of' instead of 'could have' and there I am, throwing food at the television.
What is your most treasured possession?
My hair. As a youth I used to keep it long at the back like a superhero's cape. These days I wear it close-cropped, but it never fails to attract admiring glances from women of all ages and socio-economic groups.
Who would you most like to say sorry to?
Owners of Japanese cars. I spent all of the 1980s and most of  the 1990s using my position as a radio DJ to publicly mock them. It was a war waged without respite, without mercy, without humanity. And I know for a fact that it forced at least one local man to consider switching to Vauxhall (in the end he didn't). How ironic then, that I now drive a Toyota Avensis.
How would you like to be remembered?
As the first person to suggest a West Bank-style wall around Norfolk (mark my words, it'll happen).
What's the worst thing you've ever done?
Voted Labour. It was only in an election for the European Parliament, but as soon as I'd done it I knew it was wrong. I tried to ignore the nagging feeling of remorse but less than an hour later I was violently sick near a bin.
When did you last tell a lie – and what was it?
I recently told a woman in a wine bar that I had a double-jointed thumb.
Alan Partridge exclusive Cineworld interview
---
Alan Partridge hits Cineworld screens on 7 August in Alan Partridge: Alpha Papa. You may have noticed over the past few weeks that we've teased you with snippets of Alan's stint as guest editor on the August issue of Cineworld magazine.
Well, enough of sating your appetites! We're delighted to bring you the full interview that we conducted with Alan as part of the magazine. Read on as he reveals juicy snippets, such as who would play him in a filmed version of his autobiography and how he manages to broadcast his entire radio show on Twitter…
Hello, Alan. Thanks for sparing us time today.
Absolute pleasure. Plus it's contractual.
Can you tell us a bit about Alan Partridge: Alpha Papa?
Certainly can and will! It's a powerful piece of work with a capital POW (my phrase). And, like all the great movies, it centres on an incident on the outskirts of Norwich. Critics have described the movie as 'moving', 'great', 'poetic', 'life-affirming', 'action-packed', 'great', 'superb' and 'one of the best ever'. I don't have their names to hand but I could get them for you if you think I'm making it up. But all I'd say is, not all critics have to be published journalists. You could be a critic, I could, my assistant could, some of the people on my pub quiz team could (and are).
Were you interested in film when you were growing up?
I was intoxicated and interested by film, bewitched and bewildered, consumed and concerned. That's why I get so angry when people suggest I know nothing about cinema.
I know loads about cinema. As a child, there was nothing I enjoyed more than taking a stroll to the local picture house, buying a big tub of poppers (my nickname for popcorn) and watching Transformers 2, for example, before driving home.
My walls were decked with film posters featuring Burt Reynolds, Rog Moore and, in my sexually curious years, blue-movie star Robin Askwith and the woman who went on to play Alma in Coronation Street. I also have a voucher that entitles me to a certain number of cinema trips over a certain period of time (not read the details) so it's clear I'm passionate about film.
What do you think of the state of the arts in this country at the moment?
I think it needs a kick up the arm, to be absolutely honest with you. We used to be a nation of Shakespeare, Wordsworth, Constable and Essex (David).
Today, we're a cultural backwater, a barren concrete wasteland strewn with stolen shopping trolleys and back-chatting kids where the closest we come to art is an obscene message about someone's mother scrawled on the wall of a filthy underpass. British people – once proud, clever people – now guzzle up television that I frankly could spit at and sometimes do.
And the only movies we produce are about 20th century monarchs or teenagers with bad attitudes. I blame almost all of this on the former Labour government. That's where I come in. I genuinely believe that my film could spark a cultural renaissance as cultural as the Renaissance.
Are you promoting this film in any innovative ways?
I was hoping to organise a fly-past by the Red Arrows. But it hit the buffers early on when I couldn't figure out where I wanted them to fly past. Also I wanted it done in the evening but apparently the Red Arrows boys knock off at five so they can get down to the pub by ten past.
So at the moment my main idea is to lease a small fleet of cars, strap a giant inflatable Alan Partridge to the roof racks of each one and send them out around the ring roads in the UK. I feel it's a really strong concept.
I saw a prototype of the inflatable the other day and – if I'm honest – it looked more like Clare Balding than it did Alan Partridge. But she's a fine-looking woman and if an eight-foot likeness of her draws people to see the film, then as far as I'm concerned it's all gravy.
This film isn't your first foray into the arts. You've also published an autobiography, which was a real warts 'n' all portrayal of your life.
It was warts, verrucas, moles, psoriasis, the lot. I'd even include the blackheads on my nose. I looked at them with a shaving mirror the other day actually. Disgusting. It was like the world's most densely-packed dot-to-dot puzzle. I tried to get rid of them with a blackhead gun made out of a ballpoint pen. But there were simply too many. I just ended up with slightly fewer blackheads and a very red nose. Hey-ho.
Would you ever consider turning the autobiography into a biopic? Who would play you?
Morgan Freeman. Or ITV man John Stapleton. He's not known as an actor – but he will be. I've seen him act out domestic arguments and exchanges with shopkeepers and I've seen enough to know he will become one of our best-loved actors. He has bags of talent.
Do you still pitch TV show ideas?
Not really. I still have killer ideas. They mainly come to me when I'm singing in the bath. Yesterday I came up with Britain's Biggest Cobbler, for example (there are some huge ones in Norfolk, real big lads). But I don't pitch them any more. The audiences just aren't there. Everyone's got six hundred channels to choose from. Not to mention catch-up TV.
No mate, TV's dead. Digital radio, on the other hand, now that's an exciting place to be. Anyone in the world with an internet connection can tune in to my weekday morning show on North Norfolk Digital. For all I know I could have a dedicated fan base in China. Indeed if this Cineworld magazine has reached any of you, Ni hao.
Are you on Twitter?
Am I on Twitter? I broadcast my show over Twitter.
How does that work?
I employ an agency secretary to transcribe the four-hour show, divide it into 140-character chunks and post it line-by-line. Some refuse to type out the song lyrics. Others don't mind. Depends which one you get.
A lot of celebs find Twitter a pretty hostile place. Do you?
The complete opposite. To me, it's a hug from a cherished relative; a pat on the back from an old chum. Yeah, there are sly comments about the clothes I wear. Sure, there are snide remarks about my radio show. And obviously there are a fair smattering of death threats.
Well thanks for talking to us today, Alan. We hope Alpha Papa does really well.
Me too. I've got a loft extension riding on it.
Related Topics