faceless
admin



Joined: 25 Apr 2006

Posted: Sun May 16, 2010 12:55 am

Post subject: Garry Shandling
---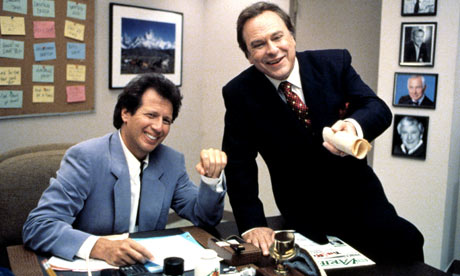 After 10 years 'Larry Sanders' is back

After a decade of self-imposed exile, enigmatic satirist Garry Shandling reappears in hit movie

Joanna Walters in New York

The Observer,

Sunday 16 May 2010


American comedian Garry Shandling admits that sometimes he "just disappears". But now he's back – and he's spoofing again. After 10 years doing little more than the occasional cameo role or voice-over – and a return to standup comedy last year – Shandling has reappeared not on television, where he became a superstar, but in the biggest, brashest Hollywood blockbuster of the summer: Iron Man 2.

Now 60, Shandling inspired the likes of Ricky Gervais with The Larry Sanders Show, his art-imitating-life satirical US chat show which was a cult hit in the 1990s. In his new film role he plays a smarmy senator at odds with the Marvel comic-inspired Iron Man, played by Robert Downey Jr. The film's director, Jon Favreau, says that he hunted down Shandling as he was "hanging around in Hawaii" and ordered him to take part in the movie.

Despite acclaimed comic turns by Hollywood A-listers Gwyneth Paltrow, Scarlett Johansson, Don Cheadle and Samuel L Jackson, Shandling has joked that he stole the show. "At first [the role] was, like, three pages, and we talked about it, and by the time I sat down with Robert Downey it was 12 pages. Then it was 15 pages," said Shandling. "I'm at the beginning of the movie and at the end, so my fear was that the other actors would screw up the middle part and the audience would forget who I was. That's what a lot of people try to do: wrap the work around me so that it starts strong and ends strong. And the last scene is the power position. Without me, the closing credits can't start," he told New York magazine.

Cinema-goers and Larry Sanders obsessives might have been surprised that the famously puffy cheeks in which Shandling usually keeps his tongue firmly lodged look decidedly less jowly in the film than in years gone by. The film critic of the Philadelphia Daily News certainly noticed, writing in his review: "The US senator from Pennsylvania is Garry Shandling. And by the looks of things, he chairs the subcommittee on Botox and chemical peels."

The last time there was a real sighting of Shandling came in an interview by Gervais in 2006, which was only bearable if you decided that Shandling's dull awkwardness must have been a send-up. Whereas you might have expected Shandling to go for a comic head-to-head with Gervais, he appeared mystifyingly stilted. But he and Downey clearly clicked during the making of Iron Man 2, when they were deadpanning with each other in what he describes as a kind of witty "onedownmanship".

The It's Garry Shandling's Show burst on to American TV screens in 1986, starring the bouffant-haired protagonist as a highly strung comedian stumbling through his loser love life with nitwit friends, commenting on it all with funny asides. Viewers were shown a TV crew apparently filming the show as Garry the comedian took the mickey out of real-life celebrities, while mercilessly mocking his own looks and Jewish angst. The show was aired in the UK on BBC2.

Then Shandling innovated all over again from 1992 to 1998 with his greatest hit, The Larry Sanders Show, which earned him cult status and countless awards. Deliciously satirical and dry, the spoof chat show starred Shandling as host Larry taking the audience behind the scenes into the fictionalised but all too realistic backbiting world of television and the rocky personal lives of its dimwitted stars.

Shandling had been a hit on the Johnny Carson Show and as a standup in LA, as well as forging his career writing for situation comedy before inventing his own. But after Larry Sanders he took to the beaches of California and Hawaii, and to Buddhist meditation as an antidote to creative burn-out.

His return to the limelight as Senator Stern echoes the recent congressional questioning by oily politicians of complacent financial chiefs. "That is the American way: the freedom to do whatever you can until you get caught," he said. Then he spread his trademark trouty lips and tombstone teeth into the boyish grin that defined one of the cult comedies of the 90s. Larry, or rather Garry, is back.