Aja
Reggae Ambassador



Joined: 24 Jun 2006
Location: Lost Londoner ..Nr Philly. PA
Posted: Mon Mar 03, 2008 3:31 am

Post subject: Escovitch fish.....
---
I was asked for this recipe on another site the other day ...i had funny enuff already been to the fish market and had My king fish in the freezer ready to go
this recipe is one of my alll time fave Jamaican recipes...... i hope at least one of u trys this it really is delish......


ingredients

* 2 to 3 pounds fish fillets or steaks (red snapper, kingfish, or porgies; in Jamaica, they use the whole fish and local catches such as parrot fish; extremely tasty but you have to pick out lots of bones… ahhhh … love the local flair)

* 2 large onions
* 2 medium carrots
* 1 Scotch Bonnet pepper, seeded and cut into thin strips
* 2 (or more) cloves garlic, finely minced
* 2 tablespoons peanut or corn oil
* 1 bay leaf
* 1 tsp dried thyme
* 2 tsp Allspice berries (optional)
* 1/2 tsp crushed red pepper
* 2 to 4 tsp salt
* 2 to 4 tsp freshly ground black pepper
* ¾ to 1 cup cane or malt vinegar..... i used white vinegar
* 1/4 cup water
* 3 limes or lemons, sliced into wedges

* 1/2 teaspoon salt
* 1/3 cup flour
* 1/2 cup peanut or corn oil
* 1 tsp whole black peppercorns (optional)
* 2 Tbsp lemon or lime juice


Directions

1. Heat 2 Tbsp of oil in a stainless steel saucepan over medium low heat. Add all the vegetables and garlic; the bay leaf, thyme, allspice & peppercorns (optional), crushed pepper, salt and pepper.
2. Sweat for about 5 minutes, stirring, or until the onion is soft and translucent.
3. Add the vinegar, water and lemon juice, stirring well. Cover the pan and simmer for about 15 minutes, stirring occasionally, or until the vegetables are tender.
4. Wash fish thoroughly in water with lime or lemon juice added. Dry thoroughly.
5. Combine salt and black pepper and coat the fish with this mixture. Pour the flour in a plastic or brown bag. Add the fish fillets or steak and shake to cover all over with the flour.
6. Heat the remaining oil in a large stainless steel skillet. (Don't use cast iron; the vinegar will interact and discolor the fish.)
7. Add about half of the fish pieces and fry until golden brown, about 3 to 4 minutes on each side.
8. Remove the fish to a large platter or to a serving dish. Keep warm.
9. Fry the remaining fish in the same way and transfer to the serving dish.
10. Spoon the hot vegetables and sauce over the fish and serve right away with lime wedges.
11. I have also heard you can cool to room temperature, cover tightly and refrigerate until thoroughly chilled, and then serve cold. thats the way i like it .....with hard dough bread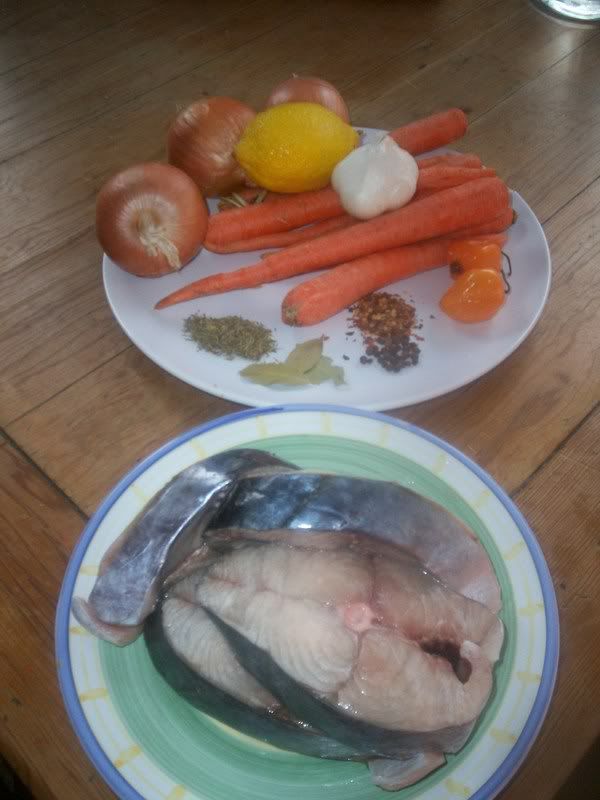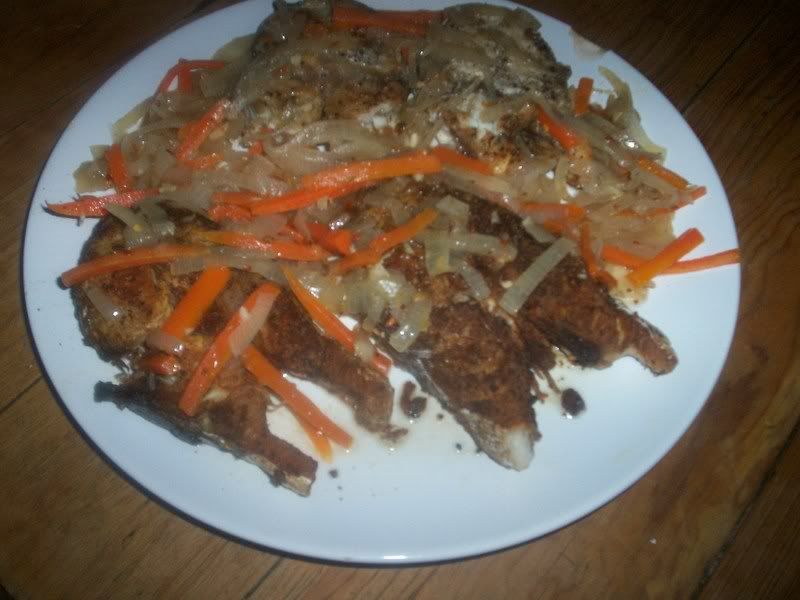 u can also serve with rice and salad ........

I ate all the fish before i made the rice lol.........
Aja
Reggae Ambassador



Joined: 24 Jun 2006
Location: Lost Londoner ..Nr Philly. PA
Posted: Mon Mar 03, 2008 4:07 pm

Post subject:
---
Thats a good question eefan......I don't see why not .....but if u can get king fish I would use that....they were so buttery and nice....I deffo will be going back to the Fish shop for more.....let me know how it works out with the tuna .....king fish is easy to find in Caribbean or Asian areas btw.....

glad U enjoy my recipes